Ken Jeong Interview About Community and The Hangover 3
Ken Jeong Talks About Being Community's "Pathetic Outsider" and Making His Dreams Come True
Community's Ken Jeong has had a heck of a Summer after starring in two of the highest-grossing movies of the season, The Hangover Part II and Transformers: Dark of the Moon. Now he's about to return to the small screen for a third season of Community as the polarizing Chang, and we had a chance to chat with him at the Summer TCA. He hinted about Chang's different direction and gushed over how much he loves doing the show, how grateful and happy he is, and how people like Todd Phillips and Bradley Cooper have touched his life.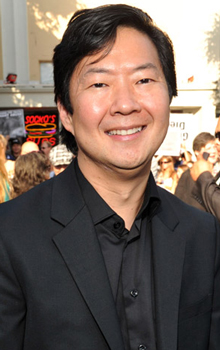 BuzzSugar: You just had two hit movies this Summer — is Community enough for you now?
Ken Jeong: This is the happiest I've been in my career. We just started shooting last Monday, and it was just picking up from where we left off. We're so happy we're coming back for another year. We genuinely love each other. We genuinely love each other's company and I've missed working with the people every day. For me, it's an embarrassment of riches. For me, as a 42-year-old Asian doctor, this is the peak of my career. It won't get any better than this. This is everything I wanted to do and then some. I never ever imagined I would be working this much and being this known. It's because of the fans and because of the people I work with. I'm just so blessed in terms of industry and in terms of the fans.
Buzz: Last year you gave the most impassioned speech at the MTV Movie Awards about that being a high point in your career, especially in light of your wife beating cancer. Are you still feeling that way?
KJ: She's still a doctor, and I used to be a doctor, and all our close friends are doctors. We're like, is this really happening? You can't believe it. We personally live the same lives that we lived years ago when we were physicians. As I say it out loud, it's still surreal. I was happy being the doctor from Knocked Up, alright? That was like, amazing. If that were to be the last thing I'd do, it would be a life well spent in the arts. So to be Mr. Chow and [star in] two Hangovers, a third season of Community and to be in Transformers? Come on, it's ridiculous. It's an embarrassment of riches. And what I like about it is that I really love acting and I feel like I'm getting better at it. That's the important thing; I love what I'm doing, and I'm getting better at the craft. Like I'm improving and naturally pushing myself to do this in a great way. [This is] the best way to sum it up in the last two years: [director] Todd Phillips on Hangover, after I did a scene with Paul Giamatti, said, "I don't know what's happened the past couple years, but you're like a much better actor than you were the first movie." And he goes, "How is that?" I go, "It's because of two seasons of Community." It's just made me a better actor.
To find out what else the actor had to say about Chang and whether Jeong will be back for The Hangover 3, keep reading.
Buzz: We've seen Chang be purely antagonistic, and then this season, he got a little more sympathetic. Which side do you like playing more?
KJ: I love both. I won't spoil it, but this season Chang has more of a position of authority. In my opinion it combines the best of season one, of authoritarian Chang, and season two, of pathetic Chang, and it kind of blends both worlds. Having said that, I've loved both seasons equally for different reasons. To play that authority figure of Señor Chang was great, because that was the reason the study group got together, the Spanish class; that was how they existed in the first place. So it's kind of cool that Chang's class was the reason the study group formed, so that's great from a history standpoint. And last season I really loved it because I think they gave me free reign to do different things. I love playing pathetic outsiders. Comedy shouldn't be pretty. For me, my comedy is all about the ugliness and trying to fit in and not fitting in, being the underdog or being the Wile E. Coyote, never catching the roadrunner. I love that. I could do that any day of the week, just the patheticness of that character. Because that Chang character is so different, from say Mr. Chow, or any other characters, and I love that. And I'm so lucky that Dan Harmon is coming up with a story arc every year. As a guy who loves to do movies, I get to play a new character every year and get a new wrinkle to explore. It's never getting stale for me. It's a heaven job, it's a dream job. It's the best day job ever, and I've had some day jobs.
Buzz: Are you coming back for The Hangover 3?
KJ: I would love to. I think everything is just in discussion stages at this point. But I would do anything for Todd Phillips. Todd Phillips made me. He gave me my career. If it wasn't for the first Hangover movie, I wouldn't have been on Community. The last two years of my life have been such a wild, amazing ride. Todd Phillips is family to me, he really is. He was there for me when my wife Tran was going through chemotherapy. I was doing The Hangover during that time, and every day Todd would ask, "Hey, how's Tran doing? Is she doing OK?" A lot of people don't know that. At that time last year when I had just done the [MTV] speech we had just had our second anniversary of Tran being cancer-free. We are on our third year anniversary going on being cancer-free. From a behind-the-scenes perspective, The Hangover was helping me out during the worst period of my life. Even if the movie wasn't successful, it's still the greatest experience of my career, because they helped me, they picked me up before all this stuff happened. I love those guys . . . Bradley Cooper was there for me — Bradley and Todd were the people who, at that time, knew about the situation. They were so instrumental in helping me out mentally and emotionally. I'm very grateful. I'm very thrilled. All my life, I just wanted to be an actor.
Buzz: So it's safe to say you prefer being an actor to being a doctor.
KJ: Yes, all my life I dreamed of being an actor. I didn't think it would happen. But my dreams came true and then some.