Josh Groban Interview About Walter Jr. on The Office
7 Fun Facts About Josh Groban and His New Character on The Office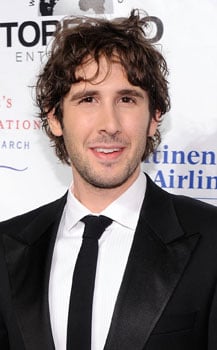 Josh Groban makes his debut as Andy Bernard's little brother, Walter Jr., on this week's episode of The Office. Groban took the time to talk to reporters about his new character, the rivalry between Walter Jr. and his older brother, and why he sometimes wishes the Bernard family patriarch, Stephen Collins, was his actual father. Plus, he filled us in on how he landed the gig.
Walter Jr. Stole Andy's Name
"Andy is the firstborn, which is usually, I think, probably the favorite son, but for whatever reason being the secondborn somehow I kind of stole his name from him. He was originally going to be Walter Jr., but they made me Walter Jr., and he kind of wound up being a little bit more of the happy-go-lucky, very successful, almost kind of fell up in a way."
He Geeked Out Over Visiting Schrute Farms
"I was very, very honored [to visit Schrute Farms]. I did not take it lightly for sure. I was actually kind of surprised they didn't put a blindfold on me on the van ride over because it feels like one of those very kind of top secret TV land locations. But when we pulled in, as a fan of the show, it was really, really fun to see. And also it was great to see the actual house on Schrute Farms. Everything that you see on the show, none of that feels like a set when you're there. It's a beautiful piece of land and what they've done, the prop department people who have created that house, it's all to scale, and to be able to walk in and be able to see all the Schrute portraits on the wall, and the pictures from his childhood and the oil painting of his grandfather next to the Kiss poster, like it's just like they haven't left any stone unturned as far as his character and what that property means for his character. As a fan of the show it was really, really cool to see."

To find out what other things Groban revealed about his character, just read more.

He Couldn't Resist Bringing a Prop Home
"I definitely will treasure the family portrait that was taken on set. We got to take a picture where it was me and Ed [Helms] and Stephen [Collins], and all of standing there, and Dee Wallace of course, who plays our mom, who is amazing. It's definitely a cool portrait. I'm going to frame it and hang it on my fireplace at some point."
He Got His Office Gig Through Twitter
"The complicated thing right now is that I'm actually on tour. When Mindy Kaling asked me about doing the show, she said — she actually kind of direct message tweeted me, and I was shocked to hear from her and I said, 'Yeah, no I would love to do the show. When are you thinking?' And it just so happened the exact week they were taping this episode was the exact week out of an eight-month tour that I'm doing, that I happened to be in the Los Angeles area. So it was 100 percent just serendipity that I happened to be in town when they were taping this episode."
He'd Love to Play a Drug Dealer
"I would love to play somebody really bad on Breaking Bad. I think that would be a really fun thing for me. I would love to play a drug dealer, or something that would be really, really fun. I've been completely obsessed with that series."
He Wishes Stephen Collins Was His Part-Time Dad
"Stephen Collins, you know, I've watched his work in the past and everybody's seen him in 7th Heaven and all those shows, and he's kind of like the ultimate dad. When you watch him at work, he's kind of the dad you wish was your side dad, no matter how great you think your family is. Like, you want him as your weekend dad. He's a cool dude and when I met him off set, there's something about him that is so calm and collected, but he has a really dry wit. Just hanging out with him, we were working on some of our song harmonies and things like that. He, first of all, has an amazing voice. Not to give any spoilers, but I think people will kind of realize that the musical inspiration in the family started with him. There's a little bit of a Von Trapp family atmosphere in his world in the show.
He Can Be Just as Shy as Walter Jr.
"I think to a certain extent I am kind of as shy in garden party situations as Walter is, and I think to a certain extent, any of us who have achieved a certain amount of success kind of feel like we've worked for it, and also feel to a certain extent like we were given wonderful opportunities and wonderful open doors to walk through. I would say that I'm definitely a little bit more neurotic than Walter Jr. Walter Jr. seems to be just very much go with the flow, and life's grand, and I tend to be a bit more of an overthinker than he is, I think."