Interview With Drew Barrymore About Miss You Already
Drew Barrymore on Motherhood, Chick Flicks, and Watching Movies With Her Daughter
In Miss You Already, Drew Barrymore and Toni Collette play closer-than-close best friends Jess and Milly. Off screen, the actresses still seem to enjoy and respect each other as much as Jess and Milly do, which was evident when I sat down with Barrymore and Collette during a recent press day for the film in New York. In the film, Collette's character, Milly, is thrown for a loop when she learns that she has breast cancer and must depend on Jess for support as well as brutal honesty. Miss You Already was clearly a passion project for both Barrymore and Collette, and they shared what it was like filming together, why the term "chick flicks" has received such a negative connotation, and a few of their favorite films featuring strong female characters.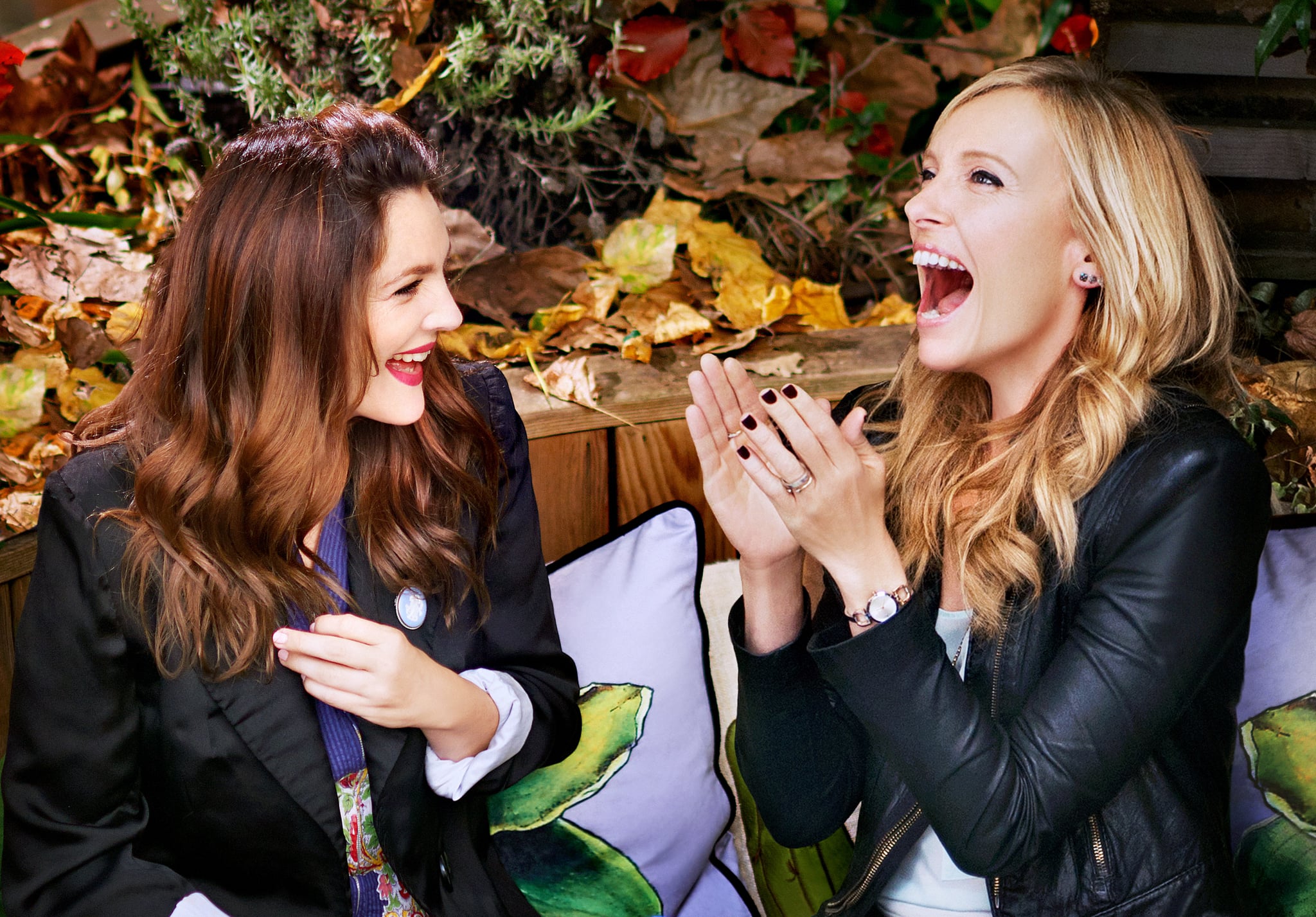 POPSUGAR: Toni, you originally signed on to play Jess, and then you decided to play Milly. How did you come about making that decision?
Toni Collette: I was actually doing a play on Broadway last year, and the person who was currently cast as Milly [Jennifer Aniston] fell out, and I was frustrated, yet again, that the film wasn't going to be made. And a very good friend came to see the play one night, and she said, "Tell me about the movie." And when I explained about the character, she said, "Well, I just watched you in a play where you're playing the capable, grounded one, taking care of everybody else as they fall apart; why don't you be the person who kind of falls apart, and get to be the hot mess?" And I went, "Oh. That's a really good idea, I wish I had it myself!" And the more I thought about it, the more I really wanted to do that. So I spoke to Catherine [Hardwicke], and I presented the idea with some force. And it was meant to be, because as soon as that happened, everything [with Drew] just lined up immediately. It was meant to be that way.
PS: Is it true that you wrote a letter to Drew asking her to be in the movie?
TC: Yes. It's true.
PS: How did you know that she was the right person for the role?
TC: I just knew. The idea of Drew playing my best friend was like a total dreamy fantasy. She's so vocal and is such a pioneer for all things female. She's so grounded and she emanates warmth. The ideal best friend? It doesn't get any better.
PS: Did you know each other before making the movie?
Drew Barrymore: We had mutual friends, but I guess timing is everything. We hadn't developed our own friendship yet.
PS: Once Drew was on board, did you worry that the friendship chemistry might not actually be there?
TC: I really didn't worry that it was not going to work.
DB: It certainly would have been a huge bummer, because you show up in the hopes that you'll get each other, but you don't know until you're there. But we did, and we knew right away that we did get each other, which was great.
TC: It was pretty instant. It was oddly easy and instant. Right?
DB: Yeah, I showed up, and I was like, "Thank you for inviting me. I'm here, and now I'm here to support you, and I really am like Jess to your Milly, and I want to be your backbone, and push you when you need it, and support you, and be quiet when we need it, or be loud when we need it. Whatever you need, I'm here for." There was just such lovely communicative support that we had for one another going into it. I think that just made it feel very safe. And then we just blasted off and had fun. That was what the film required too; these women are not heavy with each other. They're the ones who lighten it up, and pick each other up all the time. They kick each other's asses, but the nature of their friendship is one that's based in love and humor and honesty. We just decided that having the most fun that we could would be the right energy for these women. It was pretty easy.
PS: In the opening scene, Jess is giving birth. Drew, what was that like to film so soon after having your second child?
DB: It was perfect timing, because I was in such a mom body, in soul, in my heart, in my hips. I was in true mushy, delicious mom body. So it was very apropos that I would be playing someone that was trying to create life, having just created two lives.
PS: One thing I really appreciate about this movie is that it doesn't hold back from showing the realities of having cancer. Were there any scenes that intimidated you before filming?
TC: I wouldn't say intimidating. It was exciting to do. It was exciting to have this great gift, to be able to tell this story, and have some of these really intimate, personal, raw moments. As an actor that's what you crave. And those scenes prove to be the most satisfying once you've done them. If you get it right. [Laughs]
DB: I was just amazed that there was such agreement to go into this without it feeling Hollywood and overly precious, and instead there was this great intimacy. I think it makes it so much more grounded and real and relatable, because it isn't a polished, overly dramatic thing. It's really a beautiful, intimate portrait. It's so keyhole, and I really loved that about it. To be part of something that's tackling such difficult things to speak of, in such a straightforward, beautiful, strong, humorous, calm, quiet way, was just mind-blowing to me.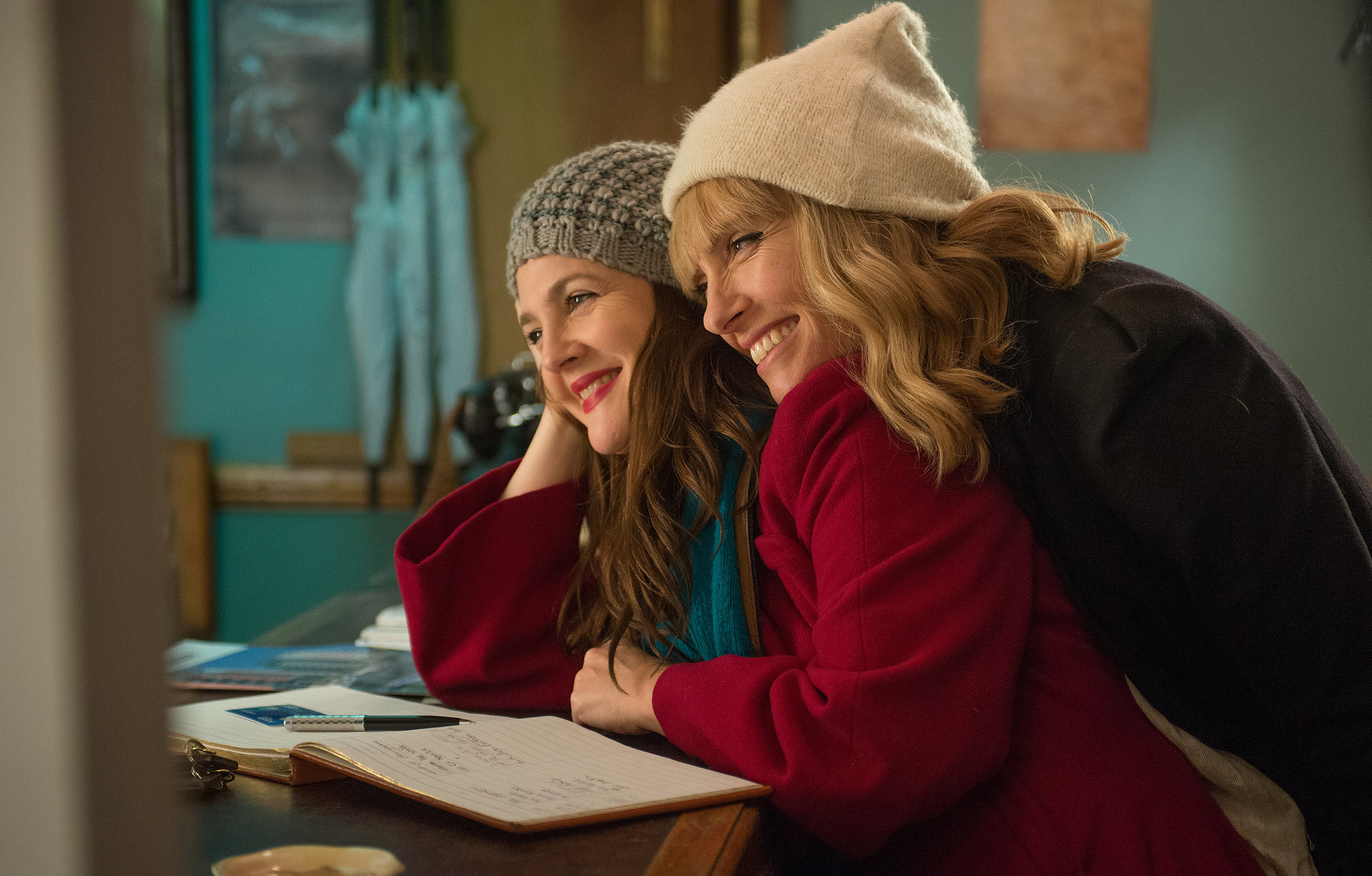 PS: Drew, in another interview, you called this movie a chick flick and said, "Maybe that's OK." Why do you think chick flicks have gotten such a bad rap?
DB: I don't know, because the next minute everyone's saying that there aren't enough films for women. You can't have everything. If it's not as inviting to men, or doesn't seem like men are going to come to it, isn't that part of an answer to trying to make more films for women, made by women, about women, for women? We're just all doing our best, and I think this is a great film for women. I think "chick flick" has negative connotations because it sounds like men aren't welcomed.
TC: And it sounds vacuous.
DB: Yeah. But this film is so much about the family, so much about the husbands, and it's so fleshed out. Everybody really is so multidimensional in their love and frustrations and pain and altruism, that the whole thing feels very realized. Really, though, this is a film that is very much for women. And if there's such a chasm, and a desire to fill that chasm with more films for women, then hopefully this will be one of them.
PS: What would you say are the makings of a really good chick flick?
DB: Oh my god, I like so many different kinds of chick flicks. I like rom-coms, I like female friendship movies.
TC: No matter what the genre, I want to see me and my friends. I want to see reality. I want to see what we're really like. I loved Bridesmaids. I thought it was the most honest portrayal of female friendship in such a long time.
DB: I loved Sex and the City, oh my god. I still watch it all the time as if it were a new show.

TC: I'm gonna watch it again.
DB: I was just watching The Devil Wears Prada on our lunch break. That could maybe be a chick flick. But oh my god, that's the best movie ever with the greatest performances. Meryl Streep is genius. It's so much fun, I was so happy watching it. Just watching Emily Blunt rip her a new one. So many great women. I watched Bride Wars with my daughter the other night in bed and had the best time ever watching it. It was just fun and easy. Me and my 3-year-old watching girls trick each other.
PS: If you two were to team up again, what would you want the plot of your next movie to be?

DB: We talk about it, actually. We get excited, sort of like the way Adam Sandler and his friends just want to hang out on a lake and make those Grown Ups movies, I think we would love to go to Italy and make a film about food.
TC: It's a destination film.
DB: Two women lost in the Maldives!
TC: Will they drown or will they survive?