Hostages TV Show Review
Pilot Scoop: Hostages
It's a bad day to be the president's surgeon when Hostages debuts this week. In this case, the surgeon is played by Toni Collette, and her steely-eyed captor is Dylan McDermott. The two lead a cast that also includes Tate Donovan in CBS's dramatic new addition to primetime. But with such a crowded slate of new shows, is Hostages going to be worth your DVR space? I got a sneak peek at the pilot, so read on to get my thoughts on the show.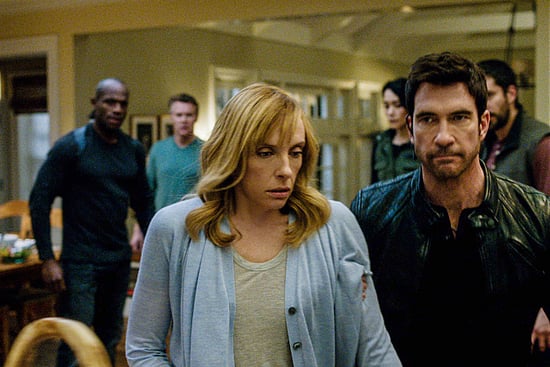 What it's about: Dr. Ellen Sanders (Collette) is selected to perform a tricky surgery on the Commander in Chief, but the night before she's set to scrub in, a team of skilled intruders lead by Duncan Carlisle (McDermott) take her and her family hostage. He insists that she purposely let the president die on the table, or he'll kill her husband (Donovan) and their children.
Where it works: The show is great at cultivating a feeling of being trapped; the discomfort is almost palpable. At the same time, Duncan is presented as a well-rounded human being. You want to know why a man with children of his own is going through with such a risky plan.
Where it doesn't: The initial kidnapping is really engaging, but I'm concerned about whether the tension can be maintained for an entire season.
You might like this show if: You liked McDermott's bad guy side he showed on American Horror Story.
When it's on: Mondays at 10 p.m. on CBS
Watch a preview for Hostages after the jump.