The Hobbit 2 Review
Why the New Hobbit Is So Much Better Than the First
Let's not dance around it: The Hobbit: An Unexpected Journey was boring, but The Hobbit: The Desolation of Smaug is so, so much better. In fact, pretty much every aspect of the new film is hugely superior to the first installment. Bilbo (Martin Freeman), Gandalf (Ian McKellen), and the company of dwarves are continuing their march across Middle-earth on a mission to take back their homeland, but there's a crop of new characters this time around. There's also more action; a huge, cranky dragon; and, in case you missed it, Orlando Bloom is back!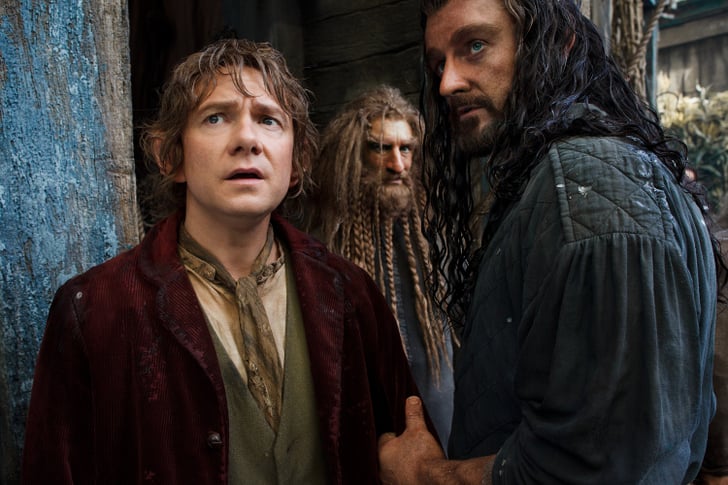 So if you're thinking of skipping The Hobbit: Desolation of Smaug because you were disappointed last year, you really should reconsider. Here's why:
There's more eye candy. Bloom has returned as Legolas, and has there ever been a sexier elf? Nope. Lee Pace, who's back as his father, Thranduil, is close, and even though they're not conventionally attractive, there's something beautiful about them. Meanwhile, Luke Evans plays Bard, a smuggler who helps the dwarves, and he is fine.
There's a love triangle! Speaking of Legolas, he's not the only arrow-slinging elf in town. Tauriel (Evangeline Lilly) is his right-hand woman, and Legolas is totally crushing on her until handsome dwarf Kili (Aidan Turner) comes into the picture and things get complicated. Thank goodness there's some romantic intrigue! I was grateful for the tender aspect this brings to the story, because it makes the characters all the more compelling.
The dragon Smaug is here. Benedict Cumberbatch voices Smaug, and he is one epic dragon. We got a little peek at him at the end of the first film, but now we see Smaug in all his scaly glory. He's humongous, he's mean, and he's got a glowing belly full of fire. Actually, his belly would be kind of adorable if it weren't brimming with scorching flames. The special effects are astonishing, especially in 3D.
Get more reasons when you keep reading.
The action sequences are eye-popping. Though there's a giant battle at the end of the first movie, there's more action spread throughout The Desolation of Smaug — and it's much more playful. There's one scene in particular that features the characters floating down a river in empty barrels while fighting orcs that's incredible, and there are a couple of long, spectacular shots that are unlike anything I've seen before.
There are even more grotesque creatures. The orcs play a part in An Unexpected Journey, but this movie has so much more orc action, and it adds to the fun. Each orc looks different than the last, but they're all miserably ugly. In addition to orcs, there's an extensive scene with giant spiders. They hiss, they bite, and they wrap everyone up in gross web cocoons. It's totally sick and pretty awesome.