The Hangover Part 3 Movie Review
The Hangover Part III: What Happened in Vegas Should Have Stayed There
When The Hangover was released in 2009, nobody was expecting much from the comedy starring three under-the-radar actors — which is exactly why the surprisingly hilarious and original film took the world by storm and killed it at the box office. Fast-forward four years, and we're upon the release of The Hangover Part III, which suffers from the opposite effect. The film is highly anticipated by fans hoping to re-create the magic of the original (and forget Part II), but aside from a few sporadic laughs, the film is another disappointing installment in a franchise that should have quit while it was ahead.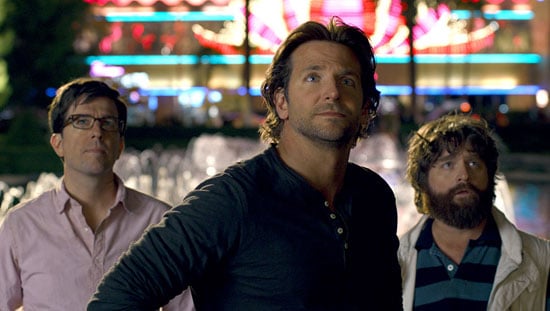 I have to give some credit to director Todd Phillips, who at least tried to go in a new direction with Part III. The "what happened last night?" formula showcased in the first two films is left behind this time, favoring a straight plotline centered on Alan (Zach Galifianakis) hitting rock bottom and the Wolfpack setting off on a road trip to get him to rehab. You don't need me to tell you that the plan goes terribly awry when Doug (Justin Bartha) is taken hostage and the guys are tasked with tracking down the elusive Mr. Chow (Ken Jeong). What you may not expect is that the story is so uneven that I actually found myself missing all the blacked-out-drunken drama. Without that element, it feels like one of the characters is missing from the movie.
To see what else I thought of The Hangover Part III, just read more.
Galifianakis and Jeong originated breakout characters in Alan and Chow, and once again they earn the most laughs. Alan is more bizarre than ever, but Galifianakis's deadpan one-liners produce most of the highlights of the film. Jeong also takes Chow to a new level of greedy absurdity, but there's almost too much focus on him. Phil (Bradley Cooper) and Stu (Ed Helms) are overshadowed, and their characters' personalities are surprisingly toned down. What happened to Phil's supersnarky one-liners? Where are Stu's overexaggerated freakouts? Sure, Cooper gets to do some stunts like rappelling off Caesar's Palace, which is fun, but not when it replaces the banter that made The Hangover so quotable.
There are some redeeming qualities in Part III, particularly in the nods to the original. I loved seeing the guys make their triumphant return to Vegas, especially since it means meeting up with characters like Jade (Heather Graham) in their quest to track down Chow. It's also nice to get some resolution to the stories and see where they all end up, but the problem is that for every pleasant surprise, there's a giraffe that gets his head knocked off (seriously) or some other equally uncomfortable moment that falls flat.
It's not that The Hangover Part III is so terrible, it's just so mediocre — and it's even more of a letdown when you think about what the Wolfpack used to bring to the table. The Hangover is a lightning-in-a-bottle movie, but The Hangover as a franchise is just one big sellout.