Gina Rodriguez Talks About Time's Up and Annihilation
Gina Rodriguez on Annihilation's Connection to Time's Up: "We Had to Band Together"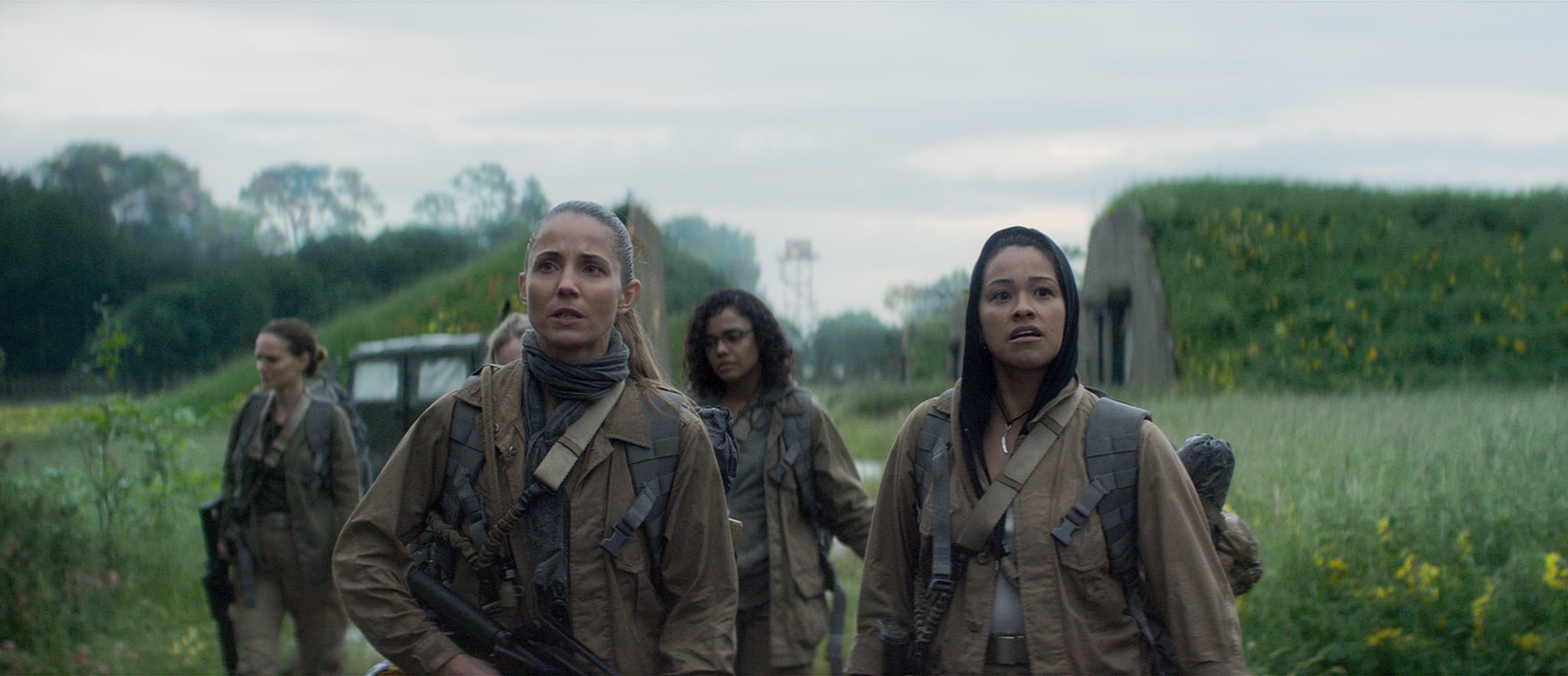 Image Source: Everett Collection
Here's a PSA for you: everyone needs to be paying more attention to Gina Rodriguez. While the Jane the Virgin actress has the talent of charming our television sets week after week, she also possesses something equally as powerful: the desire to make change.
Yes, she's the star of a refreshingly diverse television show that doesn't use Latinx stereotypes, but did you know she's also directed an episode of Jane, a feat not many women, let alone women of color, can say they have on their résumés? Her social media accounts alone will inspire you to pick up a sign, not to mention her decision to wear a Time's Up pin to the SAG Awards in support of the women's movement that aims to end gender discrimination and mistreatment. The 33-year-old is subtly yet effectively using her platform for the better good of women everywhere. But it's Rodriguez's latest role in the sci-fi thriller Annihilation that really demonstrates just how much change the actress is willing to partake in.
Not only is she representing Latinas everywhere in a genre of film that has a reputation for being whitewashed, but both her role and the movie's plot are sending a message of sisterhood, something that couldn't be more relevant in today's #MeToo era.
The film follows a team of female scientists and professionals who explore a mysterious, alien-like bubble appropriately deemed the "Shimmer," which has encompassed a portion of Florida's swampland and only seems to be growing. The team of women — which includes great performances by Gina Rodriguez, Natalie Portman, Tuva Novotny, Jennifer Jason Leigh, and Tessa Thompson — all have one thing in common aside from their obvious smarts: they're dealing with inner demons. In the case of Rodriguez's character, paramedic Anya Thorensen, that means navigating sobriety after having battled addiction. Each woman not only tries to survive the Shimmer and its world of terrifying monsters and mind-bending wonders, but they also try to rise above their own baggage, either by banding together or having the courage to stand alone.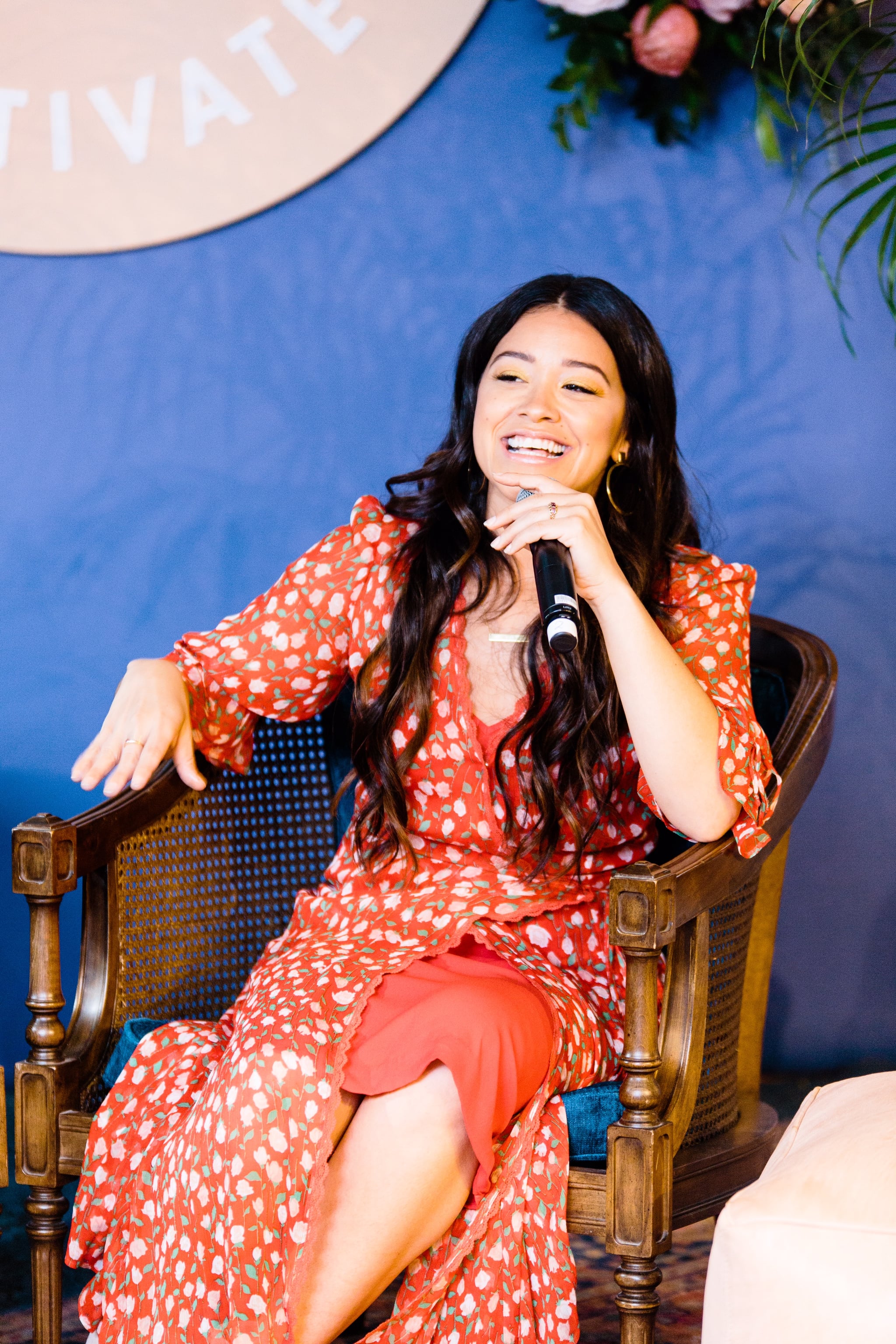 Image Source:Beck Smith of Smith House Photo
The challenge of rising above what once hurt you has a huge resemblance to the current #MeToo and Time's Up movements, which deal with the repercussions — or lack thereof — of sexual harassment and assault in the workplace. It's something Rodriguez totally recognizes. During the Women to Watch panel from Create & Cultivate and Fossil in Austin, TX, on Saturday, Rodriguez made the connection between Annihilation's empowering message and the recent trend of women bravely coming forward and speaking up.

"Sometimes we're not aware of the necessity to put our sh*t to the side so you can get the job done," Rodriguez said, "and to be surrounded by women that were like, 'Uh-uh, not today. That's not worth it. Let's be happy. We're going to do this together. Were going to rise above this.'"
Rodriguez also went on to praise her costars, who've been prominent figures in female empowerment in Hollywood. "A lot of the women in Annihilation are on the forefront of that movement. Natalie, Tessa . . . and it was like the precursor. It was preparing us to understand we had to band together," Rodriguez explained. "And it was not an option. There could not be a weakness in our chain and we had to be as strong as a tree trunk. And we had to do that on Annihilation and then we did that right away after, when the movement started to push forward."
We can say we hope to see Rodriguez in more empowering roles like her character in Annihilation, but we have a feeling we won't need to worry about that with her.