Will General Hux Die in Star Wars: The Last Jedi?
Domhnall Gleeson Hints at an Unpleasant End For His Star Wars Character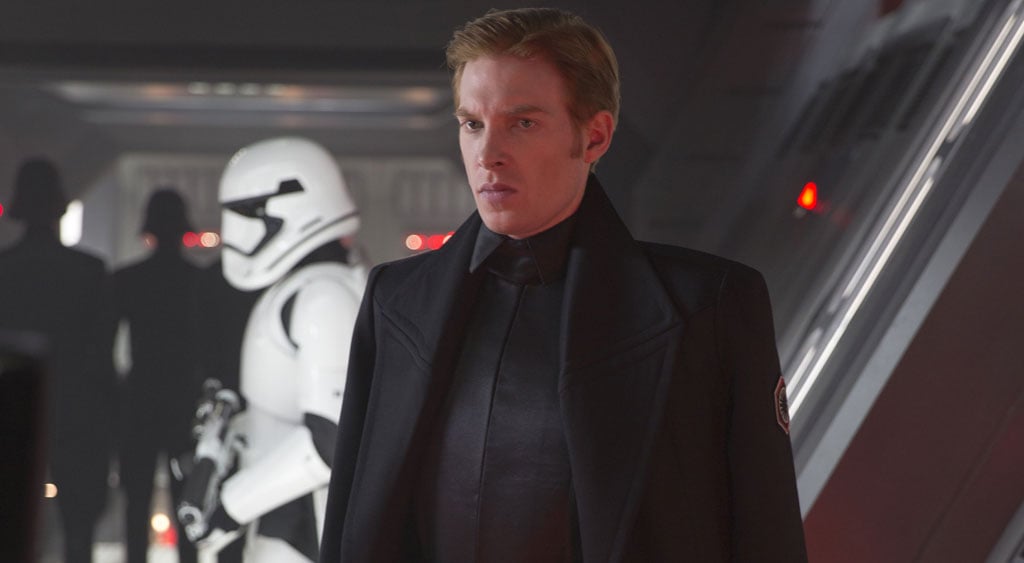 Raise your hand if you'd be cool with Star Wars' General Hux biting the bullet or two in The Last Jedi.
. . . Since I can't see you, I'm just going to assume you all raised your hands, since he is the freakin' worst. Despite flouncing around the Starkiller Base in an expertly draped cape and having one killer first name (it's "Armitage," very chic), he stands for everything Rey, Finn, and the rest of the good guys are trying to keep from happening (i.e. genocide and mass destruction). Although he escapes the explosion at the end of The Force Awakens, managing to evacuate along with fellow First Order villain Kylo Ren, many fans assume the character is not long for this galaxy, especially since Supreme Leader Snoke would probably toss him aside at a moment's notice. This logic begs the question: will General Hux survive The Last Jedi?
During an interview with IGN, Domhnall Gleeson (who plays Hux) may have dropped a major hint. The actor was asked about the announcement that J.J. Abrams is returning to direct the as-yet-untitled Episode IX in place of Colin Trevorrow. "J.J., he's a great director," Gleeson said. "I think that he did a brilliant job on the first one and it makes absolute sense why, after they parted company with Colin, that was the place they looked. And I think it's very exciting for the fans of the film that he's back."
Gleeson went on to insinuate that he might not even get the chance to work with Abrams on Episode IX, which doesn't necessarily bode well for General Hux. "Obviously, nobody knows what's going to happen [in] The Last Jedi, and whether I'll be involved in [Episode IX] or not. So, I don't think of [myself] as somebody who's necessarily involved or not involved, that's just its own thing." Sounds to me like a very wordy way of saying, "I'm gonna peace out in the next Star Wars film, homies."
Fortunately for us all, we only have to wait a few more months until we find out for sure.