Dylan McDermott Talks About Dermot Mulroney
Dylan McDermott on Hostages and Dermot Mulroney: "We're Trying to Add to the Confusion"
Dylan McDermott came to Summer TCA to talk about his new CBS drama, Hostages, but he ended up needing to address the actor he's often confused with: Dermot Mulroney. Mulroney coincidentally has a new show that is also about a hostage situation, like McDermott's new series, but McDermott good-naturedly joked about the coincidence. He and costar Toni Collette also talked up Hostages and how they're both drawn to TV series with shorter seasons like this one.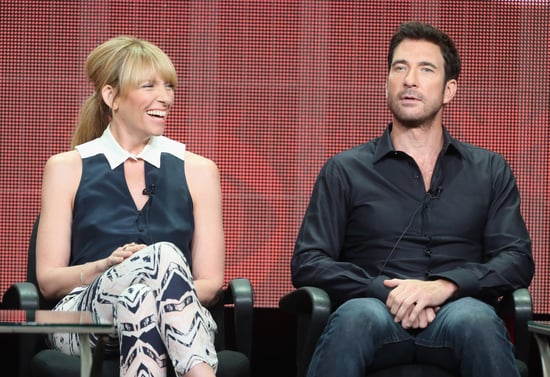 When the similarly named Dermot Mulroney was brought up to McDermott — and the fact that Mulroney has a similar show on the horizon (NBC's Crisis) — Collette couldn't help herself and cracked up: "Is that true?!" McDermott joked that it was no coincidence: "We always discuss what we're going to do," adding, "We're trying to add to the confusion as much as we can. This perpetuates that a little bit more."
Hostages is about a family who gets taken hostage by McDermott's mysterious character, who wants the mother of the family (Collette) to kill the president. Executive producer Rick Eid assured us, however, that we won't be sitting in the living room all season. He even spilled some details, such as the fact that the family will try to escape, someone will get shot, and someone will get killed. Additionally, the 15-episode first season takes place almost in real time over the course of a couple of weeks, and McDermott promised that the shorter season means that "it's streamlined. You're getting the best of the best," and asserted, "there's no bullsh*t in this show."
Collette is also a fan of the trimmer, 15-episode season, as opposed to a more traditional 22-episode season. "It's more appealing to me, absolutely. It allows a lot more freedom." Collette was drawn to the content and character first and foremost, saying that the script was "a page-turner," and in regards to her doctor character, "I'm always drawn to characters who seem real, and by that I mean complex."