Cowboys & Aliens 2011 WonderCon Panel Quotes From Director Jon Favreau
Jon Favreau Brings Explosive Cowboys & Aliens Footage to WonderCon, Talks Up Its "Two Generations of Action Stars"
WonderCon is in full effect here in San Francisco, and today I checked out another panel for an upcoming movie: Cowboys & Aliens. The actors in the film, Daniel Craig, Harrison Ford, and Olivia Wilde, weren't able to attend, but directer Jon Favreau and producer Roberto Orci gave the crowd a lot to be excited about. They spilled details about the Western-meets-alien-invasion action flick, and showed the audience several minutes of footage, which definitely improved upon the teaser we saw a few months ago. Check out the most scintillating bits from the panel below.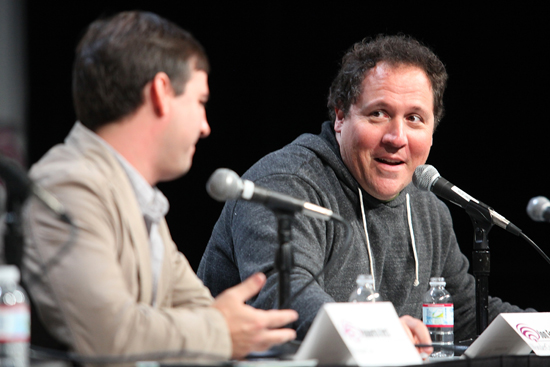 Favreau kicked off the panel by saying how grateful he was for events like Comic-Con and WonderCon. Because of the support of the fans, he says that the conventions remain a priority, and that he is "very grateful for what you guys have done for my career."
Favreau complimented star Daniel Craig, calling him an "awesome, professional, great dude." Craig was ideal for the movie because Favreau admired his work in Layer Cake and the Bond films, saying that he's "sort of a vulnerable but really badass hero."
As for the film's other huge star, Harrison Ford, Orci admitted that they never thought he would agree to the film. The victory in getting Ford, Favreau said, is that he is "bringing this entire history" to the movie, and alongside Craig, they have "two generations of action stars."
Favreau is excited about the mashup of the Western genre with the aliens, noting that "the fun isn't in making fun of the fact that they're in a Western," but that the fun is in the alien presence "blowing their minds."
Although Favreau frequently cameos in the movies he directs, he doesn't appear in Cowboys & Aliens. The funny reason for it, he said, is because Family Guy's Seth MacFarlane made fun of him for wanting to!