Comic-Con Breaking Dawn Pt. 2 Cullen Family Press Conference
The Cullen Clan Talks Breaking Dawn Part 2 at Comic-Con Press Conference
It's the last year at Comic-Con for the Twilight crew, and the Cullen family got their own press conference to talk about Breaking Dawn Part 2. Cast members Elizabeth Reaser, Jackson Rathbone, Ashley Greene, Peter Facinelli, Kellan Lutz, and Nikki Reed sat down to discuss their last film as the vampire clan. Like their costar Robert Pattinson mentioned during the other press conference, they had some funny ideas about a possible reboot, and they shared cute stories from their overall Twilight experience. Here's what they talked about: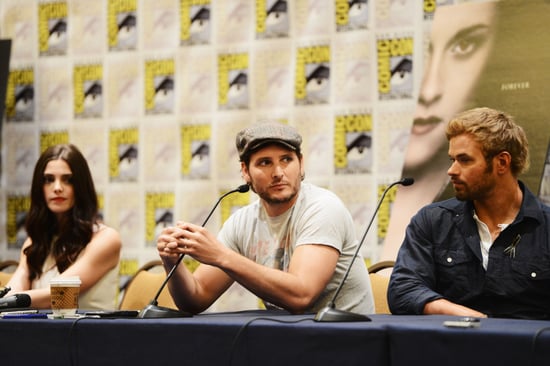 On their character development over the course of the series:
Jackson Rathbone: "When we first see Jasper, he was kind of tweaker, like a heroin junkie going through withdrawals. He's like a guy on a diet seeing a bunch of donuts. [In Breaking Dawn Part 2] it's the first time we see Jasper at ease a little, but then all hell breaks loose.
Peter Facinelli: [joking] "In Twilight I started dying my hair blond, then wigs, and the wigs went through transformation. In Breaking Dawn it's longer."
Nikki Reed: "Rosalie finally smiles. . . . The audience roots for Rosalie a little more."
On the future of the series;
Jackson Rathbone: "Maybe they'll reboot it and call it The Amazing Twilight."
On the future of the cast:
ER: "I hope we're all healthy and nobody's on Celebrity Rehab."
Find out what else the cast spilled about, including what they're fans of, after the break.
On how they felt when they were told they had just wrapped:
ER: "Peter and I had just finished a scene, being happy. . . . We were stung. We were screaming and laughing and hugging. We were feeling like, 'Well what do we do now?'"
PF: "Then we went to dinner."
On Bella and Emmett's big fight:
Kellan Lutz: "Emmett's a great actor; that's why he let her win. I've been looking forward to shooting that scene since day one. You finally get to see Emmett and Bella."
On whether they're fanatical about anything the way some people are about Twilight:
JR: "Rolling Stones. If they went on tour again, I would camp out for days to see the Stones perform. Are you kidding me?"
ER: "I have a Google obsession with Juliette Binoche . . . and Jack White. Those are my two freaky obsessions."
PF: I remember being in line for Superman IV all the way around the block, thinking it must be something really special, but people camping out at Comic-Con puts it in perspective. Movies in general can bring groups of people together."