The Butler Review
3 Reasons Why Lee Daniels' The Butler Is Worth Seeing
Forest Whitaker stars in Lee Daniels' The Butler as Cecil Gaines, a man who serves the men in the highest of American offices: the Oval Office. The White House valet experiences the run of several different presidents, from Eisenhower to Reagan (each played by a familiar actor), while dealing with racism, life at home with his wife, Gloria (Oprah Winfrey), and the stress of his eldest son's involvement in the civil rights movement. The decades-spanning drama has a lot to offer — and is a refreshing antidote to some of this Summer's fluffier films. Keep reading to find out why you shouldn't miss this film.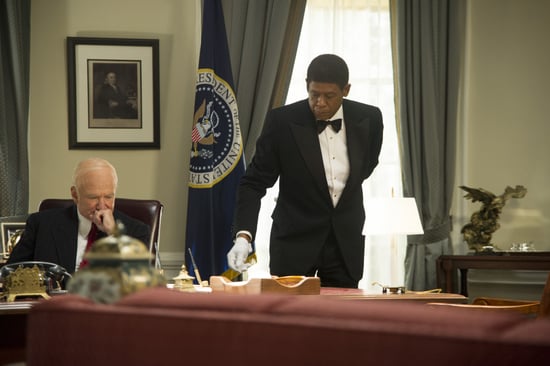 It's Fun Seeing Famous Faces as Presidents
Cecil serves under a few different chiefs of staff, and it's a source of some great cameos. Robin Williams dons aging makeup for Dwight D. Eisenhower, James Marsden plays a dapper JFK, Liev Schreiber is a beagle-loving Lyndon Johnson, John Cusack is a disgraced Richard Nixon, and Alan Rickman plays a generous Ronald Reagan. Jane Fonda gets in on the action as his wife, Nancy, too. All the actors are instantly recognizable, even in makeup, but that doesn't make it any less cool to see how these modern stars fill their presidential shoes. Plus, the movie gives them more personality beyond their speech-delivering skills; we see JFK suffering from Addison's disease and LBJ giving orders from the toilet.
Oprah!
The ensemble of presidents is not the only casting delight. Oprah Winfrey graces the movie with her presence, and she kills every scene she's in. As housewife Gloria, she's not just a woman staying at home and taking care of her family; she suffers for her husband's career, and finds distractions away from him. She's also disco-dancing (!) and delivering every line perfectly. Oprah dominates the scenes she's in, and though she frequently gets campy, she's always entertaining.
The History Lesson
We see almost the entirety of Cecil's life unfold, but his aren't the only eyes through which we experience the turbulent US. His son Louis (David Oyelowo) acts as another historical filter when he chooses to become a civil rights activist, and his approach evolves as history does. First he's a peaceful protester, being beaten at Woolworth for sitting in the white section, then, he's on a Freedom Rider bus that gets attacked by the KKK, then he's a member of the Black Panthers. Not only does this give us some distraction from Cecil's day-to-day, it plays out important historical incidences. They are ugly and hard to watch, but Daniels doesn't play anything up or down, and the fact that he intercuts actual footage of the events makes it seem fairly presented — and all the more poignant.