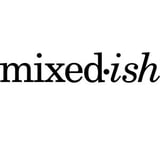 We partnered with ABC to throw an event in honor of Mixed-ish to celebrate what makes everyone unique.
As Tracee Ellis Ross narrates at the start of Mixed-ish (the new spinoff of Black-ish that tells the origin story of Rainbow "Bow" Johnson), "My parents had sent us out into the world with absolutely no warning that being mixed was even a thing. Imagine being the new kid when no one in the world is like you." That's why representation and celebration of a mixed identity were the centerpieces of the "Embrace Your Ish" event POPSUGAR hosted for the premiere of Mixed-ish.
Mariah Carey, the artist behind the theme song for the show and a panelist at the event, said she cried when she saw the first episode of Mixed-ish. "These are the things that I went through," she said. "I saw a poster for Mixed-ish and was like, 'This can't be!' I can't believe people actually know what mixed is now. Representation is so important. Maybe now people will have a greater understanding and a little more compassion." Along with Mariah, panelists included Black-ish, Grown-ish, and Mixed-ish stars like Tracee Ellis Ross, Anthony Anderson, Yara Shahidi, and Chloe and Halle Bailey.
This event wasn't just about watching celebs on stage — guests got to mingle with celebrities at a candy and popcorn bar, pick from a wall of faux floral crowns inspired by Mixed-ish for a gorgeous photo moment, play with all the limited-edition kicks in "Dre's Sneaker Closet," and listen to the exclusive debut of Mariah Carey's song "In the Mix," the official theme song for Mixed ish.
Make sure to watch the video above for event highlights, and tune into Mixed-ish Tuesday nights at 9 p.m. ET/8 p.m. CT on ABC to find out how Bow's story unfolds.
Image Source: POPSUGAR Studios