Sad Non Celebrity News: 31 Dead So Far
CNN is reporting up to date news on a horrific event that took place a few hours ago on the Virginia Tech campus. A mad man went on a shooting spree and so far 31 are dead. The death toll seems to continue to climb and details are still pouring in but here's what we know right now: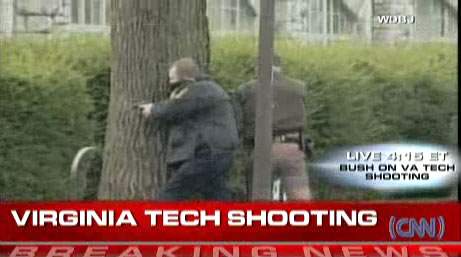 A lone gunman is dead after police said he killed at least 21 people Monday during shootings in a dorm and a classroom at Virginia Tech -- the deadliest school attack in U.S. history.

Government officials told The Associated Press that the death toll had grown to 31, including the gunman. CNN is working to confirm the report.

It was not clear if the gunman was killed by police or if he took his own life."Some victims were shot in a classroom," university police Chief Wendell Flinchum said of the shootings, which occurred two hours apart.

Police believe there was only one gunman, Flinchum said.

Spokespersons for hospitals in Roanoke, Christiansburg, Blacksburg and Salem told CNN that they were treating 29 people from the shootings.
Check CNN for more. So sad. Our heart goes out to all that have lost loved ones.