Pictures of Robert Pattinson, Kristen Stewart, Taylor Lautner, and Cast at Eclipse Premiere
Tons of Pics: Twilight Celebrates Biggest Premiere Yet With Total Star-Studded Eclipse!
Robert Pattinson, Kristen Stewart, and Taylor Lautner were the main event, as expected, at last night's Eclipse premiere in LA. The Twilight trio posed together and signed autographs for as many fans as possible, well beyond the official start time of the screening — watch previews of our red carpet interviews with more to come on PopSugar Rush today! Kristen's one-shouldered Elie Saab is getting great reviews from you, and it looked fantastic between Rob and Taylor's matching Gucci suits. She was also making it two nights in a row for stilettos and minis, but she happily posed for all the cameras. Rob, on the other hand, was fresh off another week of work with his new leading lady, Rosie the elephant.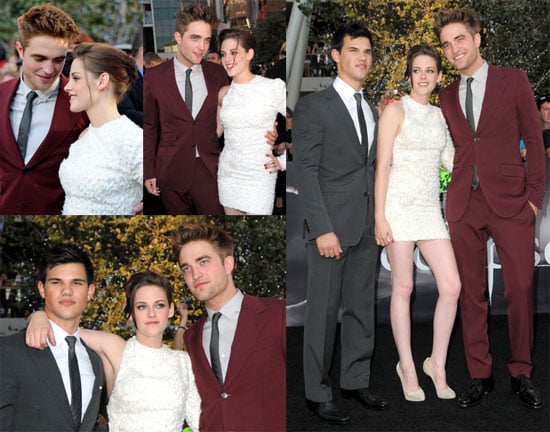 As for the saga's other beautiful women — Anna Kendrick's metallic dress shimmered, though at moments her strappy shoes sort of stole the show. Bryce Dallas Howard joked that her husband was a little intimidated when he saw the crowd and said she was having a blast. Her yellow gown was outstanding with the famous red hair as well. Nikki Reed was especially happy to have her two brothers as dates in her feathery Marchesa and said she loves working out with Elizabeth Reaser. Ashley Greene flashed her hot shoes and some leg when she held up her gorgeous gown to greet the crowds, though for the most past she let her train flow behind her. Just like Kristen, Dakota was in her own Elie Saab, only opting for a neutral which let her studded Louboutins do the talking.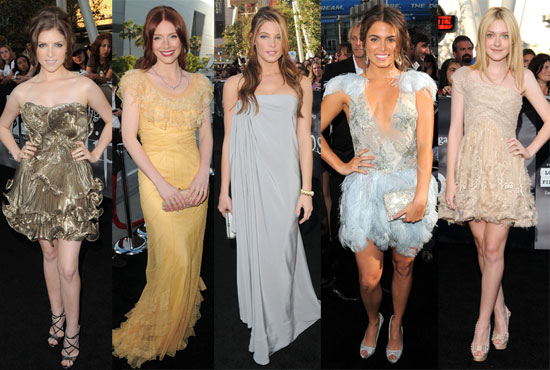 Kellan Lutz made a big statement bringing AnnaLynne McCord as his public date, and she proudly placed herself on "Team Emmett!" He also brought his extended family, who she stayed close to as he fielded questions and flashed those comfortable Calvin Kleins when asked. Kellan also gave a shout out to his new next-to-nothing wardrobe, saying he's so happy for all the opportunities to work with great talent. Peter Facinelli took a break from Twitter to visit the camping fans and he kept up his great spirits with wife Jennie Garth on his arm. Tons more video of the celebrity-filled event, so stay tuned!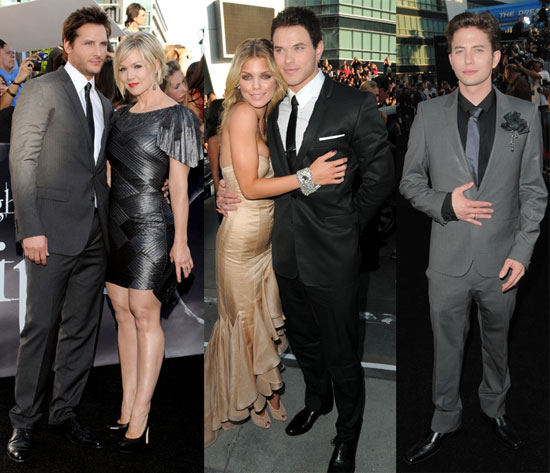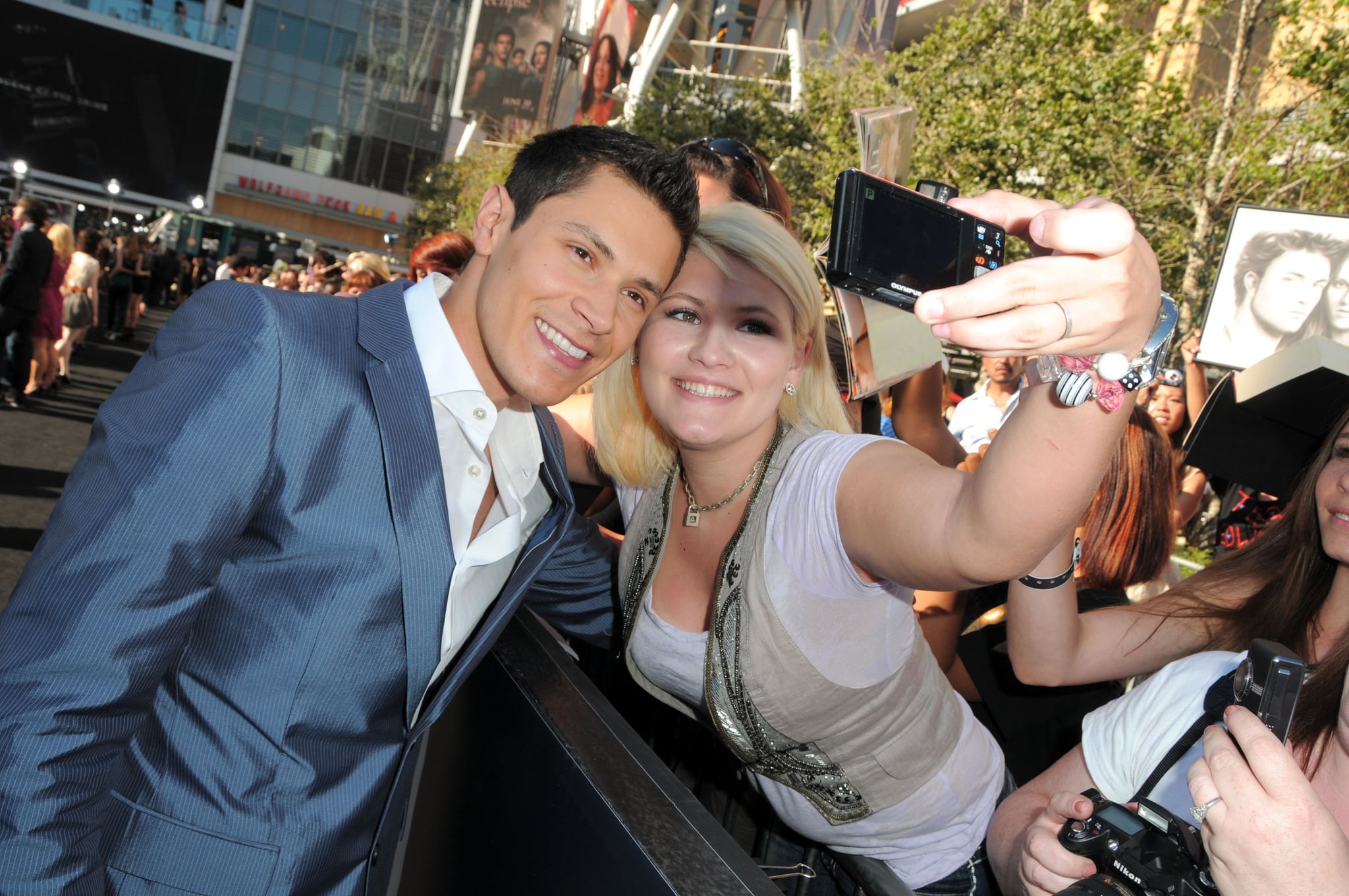 To see LOTS more from the premiere including Alex Meraz, Alex Rodriguez, Kim Kardashian, Zachary Levi, Marisa Miller, and others, read more.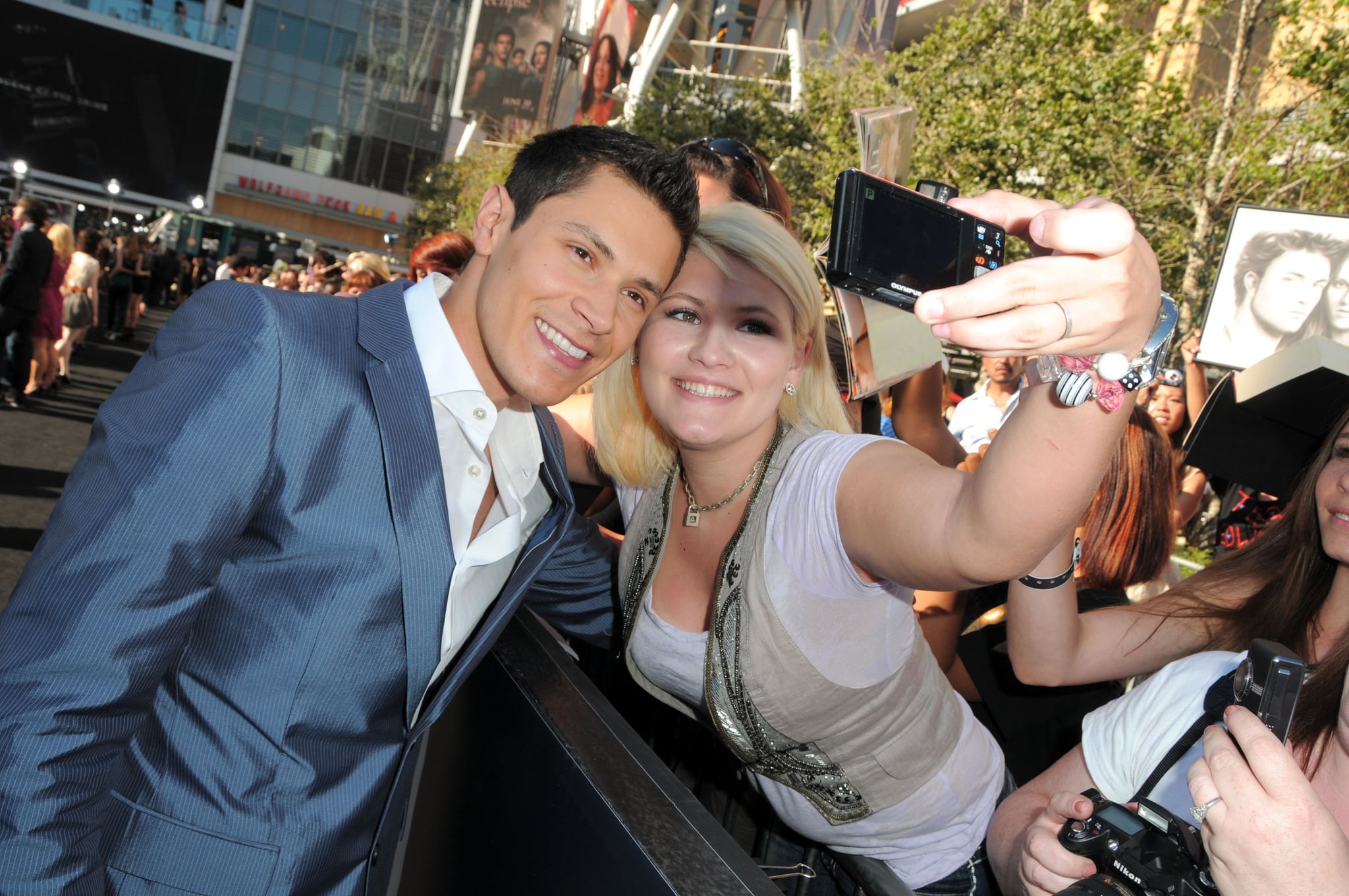 Images include: Alex Meraz, Alex Rodriguez, Anna Kendrick, AnnaLynne McCord, Ashley Greene, Bryce Dallas Howard, Dakota Fanning, Elizabeth Reaser, Jackson Rathbone, Jack Huston, Jaden Smith, Jaime King, Jennie Garth, Jennifer Love Hewitt, Kellan Lutz, Kim Kardashian, Kourtney Kardashian, Kristen Stewart, Lance Bass, Marisa Miller, Nikki Reed, Peter Facinelli, Robert Pattinson, Ron Artest, Stephenie Meyer, Taylor Lautner, Zachary Levi