Photos of Robert F. Kennedy Bridge Dedication Gala, Sarah Jessica Parker, Matthew Broderick, Steve & Barry's Liquidating Bitten
SJP Honors Robert Kennedy and Loses Bitten
Sarah Jessica Parker had Matthew Broderick on her arm at the Robert F. Kennedy Bridge dedication gala in NYC yesterday. SJP looked lovely in her peach dress and pearls although she's had some sad news this week as Bitten's retailer Steve & Barry's announced its plans for liquidation. Joining the actress last night was Jennifer Aniston's biggest fan Alec Baldwin, as well as Matt Dillon and Martha Stewart out to honor the late Bobby Kennedy's charitable efforts by renaming the Triborough Bridge.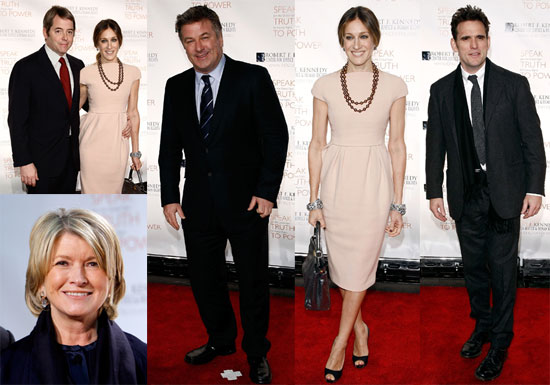 To see more photos including Fran Drescher, Glenn Close and others just read more.
Images include Sarah Jessica Parker, Matthew Brodrick, Matt Dillion, Alec Baldwin, Fran Drescher, Glenn Close, Martha Stewart.