Photos of New Moon's Anna Kendrick, Kellan Lutz, and True Blood's Alexander Skarsgard at a Young Hollywood Golden Globes Event 2009-12-09 08:30:00
Stars of Twilight and True Blood Go For the Golden Globes
Anna Kendrick teamed up with her New Moon costar Kellan Lutz last night for the second annual Golden Globes Salute to Young Hollywood Party. Your favorite rising star of 2009 was fresh off an appearance on The Late Show to promote Up in the Air, while Kellan took the evening off from hanging out with his new pup Kevin. Kellan had a little vampire competition on the red carpet, in the form of True Blood's Alexander Skarsgard. His usual companion, girlfriend Kate Bosworth, wasn't there, but they were together Monday for a bash at the Chateau Marmont.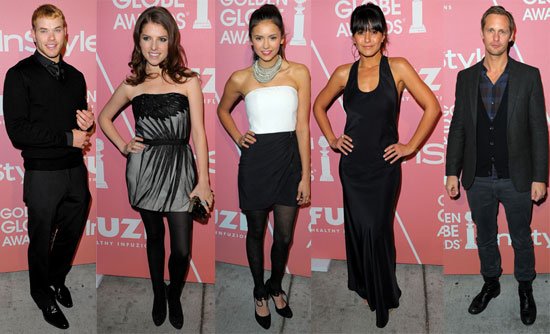 Also representing the undead crew were The Vampire Diaries' Nina Dobrev and Ian Somerhalder, who stayed close to pals Chris Klein and James Van Der Beek throughout the night. Emmanuelle Chriqui was decked out for the bash, as were Jordana Brewster and Maggie Gyllenhaal. Ashley Tisdale mingled with fellow blonde Brittany Snow, while Olivia Wilde made the rounds with her husband Tao.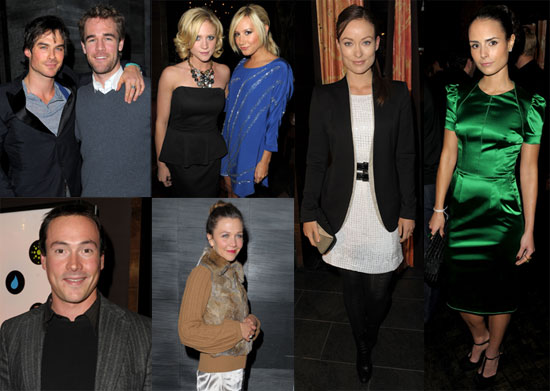 To see more from the event, just read more.
Images include: Jordana Brewster, Brittany Snow, Ashley Tisdale, Philip Berk, Anna Kendrick Kellan Lutz, Trevor Donovan, Olivia Wilde, Edi Gathegi, Tao Ruspoli, Quddus, David Krumholtz, Vanessa Britting, Chris Klein, Emmanuelle Chriqui, Jenna Fischer, Ian Somerhalder, James Van Der Beek, Luke Worrall, Kelly Osbourne, Paula Patton, Maggie Gyllenhaal, Masi Oka, Alexander Skarsgard, Kate Flannery, Nina Dobrev, Jessica Stroup