The Lakers Perform For Their All-Star Fans
The LA Lakers hit the court at the Staples Center for game five of the Western Conference Finals against the Denver Nuggets last night. The game was close, but the hometown team pulled out the big win. The audience was star-studded as usual including familiar faces like Zac Efron and Jack Nicholson while Ellen Pompeo and MIA had their men by their sides. Kim Kardashian excitedly twittered about heading to the game with Reggie Bush, though she was rooting for her friend LaLa's boyfriend Carmelo Anthony on the Nuggets. The Lakers have the chance to win the series in Denver tomorrow, but if they have to come home for game seven their celebrity good luck charms will be there to cheer them on.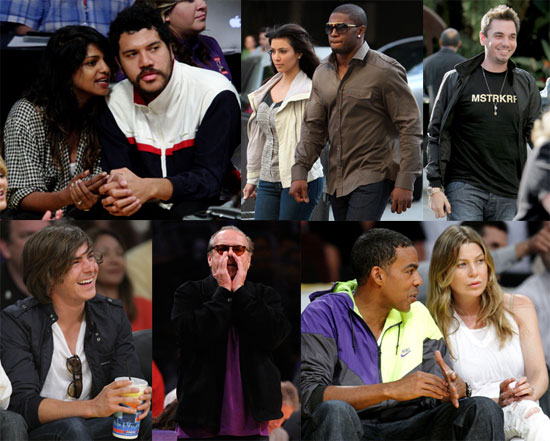 To see more stars at the game including Adam Levine, Hugh Hefner, Ice Cube and others just read more.
Images Include: Ellen Pompeo, Chris Ivery, Jack Nicholson, Adam Levine, MIA, Kim Kardashian, Reggie Bush, Anthony Kiedis, Chris Kattan, Zac Efron, Zach Braff, Denzel Washington, Taraji Henson, Hugh Hefner, Ice Cube, Andy Garcia, DJ AM