Kristen Stewart, MK, Ashley, and Carey Are All So Stylish
After a star-studded Sunday night at the BAFTAs, the pretty young things in London were dressed up again today for the Elle Style Awards. Mary-Kate and Ashley Olsen only attended the afterparties yesterday, and were once again showing off their individual style. Kristen Stewart sported another sexy strapless number — weigh in on all their looks here — though we're still curious where she and Rob were sneaking off to for their post-BAFTA fun. Cute Carey Mulligan is becoming quite the red carpet pro herself before the Oscars, which are in just a few weeks — don't forget to fill out our ballot and win! Plus, watch Carey's cute pixie cut at work with her real-life boyfriend in the new Wall Street 2 trailer.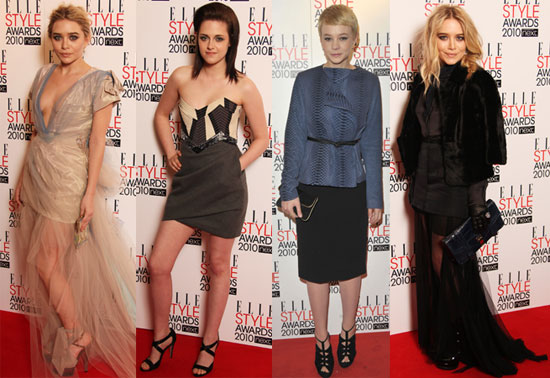 More photos from the Elle Style Awards including Naomi Campbell and Claire Danes, so read more.
Images include: Jared Leto, Carey Mulligan, Ashley Olsen, Mary-Kate Olsen, Naomi Campbell, Claire Danes, Agyness Deyn, Kristen Stewart, Claudia Schiffer, Colin Firth, Alexa Chung, Leona Lewis