George Zimmerman Trial Facts
George Zimmerman Found Not Guilty — Look Back at the Important Case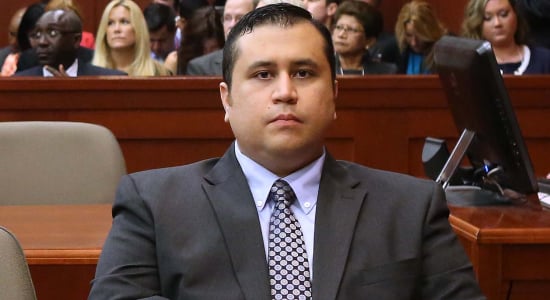 George Zimmerman was found not guilty of second-degree murder in the shooting of Trayvon Martin. The shooting of Martin by Zimmerman occurred in February 2012, and since then, there have been several twists and turns in the trial. For a look back at the case, check out this simple breakdown of the biggest facts:
The Key Players
Martin was 17 at the time of the shooting, staying with his father and his father's girlfriend in Sanford, FL, after receiving a 10-day high school suspension for having drug residue in his backpack.
Zimmerman, 29, lives in a gated community in Sanford with his wife, Sheila. After a violent episode in their neighborhood in August 2011, Zimmerman and some neighbors created a neighborhood watch program with Zimmerman at the helm. At the time of the shooting, he was working on his associate degree in criminal justice.
The Crime
In February 2012, Zimmerman called 911 about a suspicious person in the area, and he was told not to get out of his car. He did, though, and he shot 17-year-old Martin in what he claims was self-defense. Police reports said that Zimmerman's injuries included bleeding from his nose and the back of his head. Phone records show that Martin was unarmed and talking on the phone with his female friend Rachel Jeantel just before the altercation. She has said that she heard someone ask Martin what he was doing, then heard Martin ask why he was being followed before the call was lost.
Read on for more about the case.
Zimmerman in the Press
It's been a hotly debated case, with issues of age and race both coming into play. Martin was a minor at the time of his death, and some felt that the shooting was an issue of racial profiling. In a statement delivered to the Orlando Sentinel in March 2012, Zimmerman's father insisted that his son was not racist — that he was Hispanic, raised in a multiracial family, and "would be the last to discriminate for any reason whatsoever."
Zimmerman participated in his first TV interview on Fox's Hannity show in June 2012. Asked whether he had any regrets, Zimmerman said no, saying, "I feel that it was all God's plan." Turning to the camera, he added, "I do wish that there was something — anything — I could have done that wouldn't have put me in the position where I had to take his life."
Obama's Statement on the Case
On March 23, 2012, President Obama made his first remarks on the controversial case, saying, "Obviously this is a tragedy. I can only imagine what these parents are going through, and when I think about this boy, I think about my own kids, and I think every parent in America should be able to understand why it is absolutely imperative that we investigate every aspect of this. . . . My main message is to the parents of Trayvon Martin. You know, if I had a son, he'd look like Trayvon, and I think they are right to expect that all of us as Americans are going to take this with the seriousness that this deserves."
The Trial
In April 2013, attorneys Hal Uhrig and Craig Sonner announced that they would no longer be representing Zimmerman, and the following day, Zimmerman was charged with second-degree murder. On June 20, an all-female jury was selected for Zimmerman's trial, which kicked off on June 24. The prosecutor opened with shocking first words: "F*cking punks," he started, saying it's the phrase Zimmerman used just before the shooting occurred. The defense took a similarly surprising approach with its opening, beginning the statement with a knock-knock joke: "Knock, knock. Who's there? George Zimmerman. George Zimmerman, who? All right, good — you are on the jury."
Zimmerman's interviews with police were played in court, and he also did a walkthrough at the scene of the shooting. It started out as a verbal back-and-forth, Zimmerman said, before Martin punched him in the nose and he fell to the ground. Then, Zimmerman claims that Martin got on top of him and slammed his head into the sidewalk, so he screamed for help.
There have been several witnesses called to the stand, including Martin's friend Jeantel, who said that the incident was racially charged. On July 3, a medical examiner called Zimmerman's wounds "insignificant," and an expert testified that Martin's DNA was not found on the grip of Zimmerman's gun, which goes against one witness's testimony about Martin grabbing the gun. The expert also said that swabs used underneath Martin's fingernails showed no signs of Zimmerman's DNA.
Family and friends' testimonies have made for contradicting opinions about the panicked voice that's heard screaming for help on the 911 call. Martin's mother and older brother testified that it was the voice of Martin, but Zimmerman's mother, uncle, and friends said that it was Zimmerman's voice.
On July 9, pathologist and former medical examiner Dr. Vincent DiMaio testified that based on the gunshot wound and the angles of Martin's sweatshirt and undershirt, it looks like Zimmerman fired the shot when he was underneath Martin. On the other hand, witness Jeannee Nanalo said the bigger person was on top, and after seeing both men on the news, claimed it was Zimmerman.


Zimmerman announced on July 10 that he would not testify in his own defense, and closing arguments wrapped up on July 12. The prosecution opened their closing argument by saying, "A teenager is dead. He is dead through no fault of his own." The defense, on the other hand, brought a slab of cement into the courtroom, saying, "That's cement. That is a sidewalk. And that is not an unarmed teenager with nothing but Skittles trying to get home. That was somebody who used the availability of dangerous items, from his fist to the concrete, to cause great bodily injury against George Zimmerman."
On July 14, after more than 16 hours of deliberation, the jury reached a verdict, and Zimmerman was found not guilty.
The Aftermath
Following the announcement of the verdict, there have been a series of protests, controversies, and interviews with everyone from Martin's parents to Zimmerman's relatives to one of the jurors from the trial. Aired live on CNN, Juror B37's comments have stirred up new debates about the case, and four of the other jurors have released a statement to distance themselves from her remarks.
Meanwhile, the Justice Department has reportedly renewed its investigation into the case, and Martin's family faces another legal option — to file a civil suit for their son's wrongful death, in which case Zimmerman may face paying monetary damages instead of jail time.