Celebrities React to the George Zimmerman Trial Verdict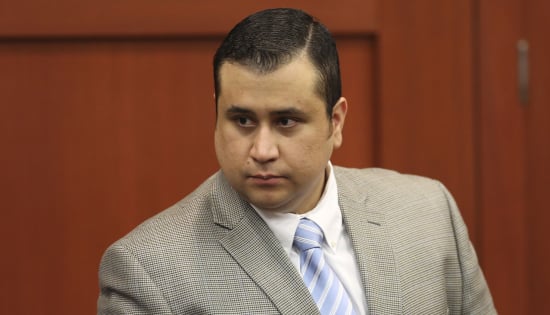 George Zimmerman was found not guilty of second-degree murder in the shooting of Trayvon Martin yesterday, and the verdict has stirred up strong reactions among celebrities on Twitter. Many stars were showed support for Trayvon and his family after news of the shooting broke back in 2012. Read on for their immediate reactions on Twitter.
My heart hurts

— John Legend (@johnlegend) July 14, 2013
This is the saddest news ever!!! #whatsjustice #pray4theMartinFamily

— Rihanna (@rihanna) July 14, 2013
No. My heart is with Sybrina Fulton, Rachel Jeantel, everyone who loved Trayvon and has been sent the message that his life didn't matter.

— Lena Dunham (@lenadunham) July 14, 2013
Keep reading for more reactions from stars.
Speechless...All I can do is pray and weep for @SybrinaFulton and the Martin Family...walk by Faith not by sight. #GodisinControl #sosad

— LA LA (@lala) July 14, 2013
What a sad day for justice in America

— Michael K Williams (@BKBMG) July 14, 2013
For me this has always been about a young boy murdered for walking home. No matter his race. Stand your ground is a horrible law.

— yvette nicole brown (@YNB) July 14, 2013
I know many people are very upset about the verdict, but we must remain peaceful. No matter what, remain peaceful.

— Russell Simmons (@UncleRUSH) July 14, 2013
The wind is more than knocked out of me... My heart aches for this boy's family. Justice System? I don't think so. #justicefortrayvon

— Sophia Bush (@SophiaBush) July 14, 2013
Onstage right now......pissed. http://t.co/N1NQc8nod9

— Fire Him (@questlove) July 14, 2013
I cannot believe this is the America I live in right now

— Michael B Jordan (@michaelb4jordan) July 14, 2013
#Disappointed literally in tears right now, over the way a KILLER was found not guilty!!? KeepingTrayvon's family in my prayers! In shock!

— KELENDRIA ROWLAND (@KELLYROWLAND) July 14, 2013
This has to be a call to action. We must participate in the political process and demand the justice system we ALL deserve.

— olivia wilde (@oliviawilde) July 14, 2013
So it's ok to be a vigilante now if you live in Florida. #HoodiesUp

— Bryan Greenberg (@bryangreenberg) July 14, 2013
And our taxes paid for that trial. We just paid to see a murderer walk free after killing an innocent unarmed little boy. #GodBlessAmerica

— Nicki Minaj (@NICKIMINAJ) July 14, 2013
Sad w/e/ A killer walks & a gifted talent dies way too young. Remember your Kipling, ppl. Keep your head when all around u r losing theirs..

— octavia spencer (@octaviaspencer) July 14, 2013
My heart goes out to Trayvon Martin's family & loved ones. Thought & prayers being sent their way #NoJustice

— Kim Kardashian (@KimKardashian) July 14, 2013
What do we stand for? How are we America, united... the beautiful? We should take a long look in the mirror, we need REAL change.

— Katy Perry (@katyperry) July 14, 2013