Celebrities With Look-Alike Kids
Double Take! Meet Hollywood's Mini Mes
For some stars, the apple doesn't fall far from the tree — when it comes to looks, that is. These days, it's hard to know whether we're looking at Reese Witherspoon or her teenage daughter, Ava, and Julianne Moore recently stepped out with her little girl, Liv, who may as well be the actress's mini me. While all kids look like their parents, some of Hollywood's biggest names have children who make us do a double take. Check out some of the famous faces with look-alike kids:
Julianne Moore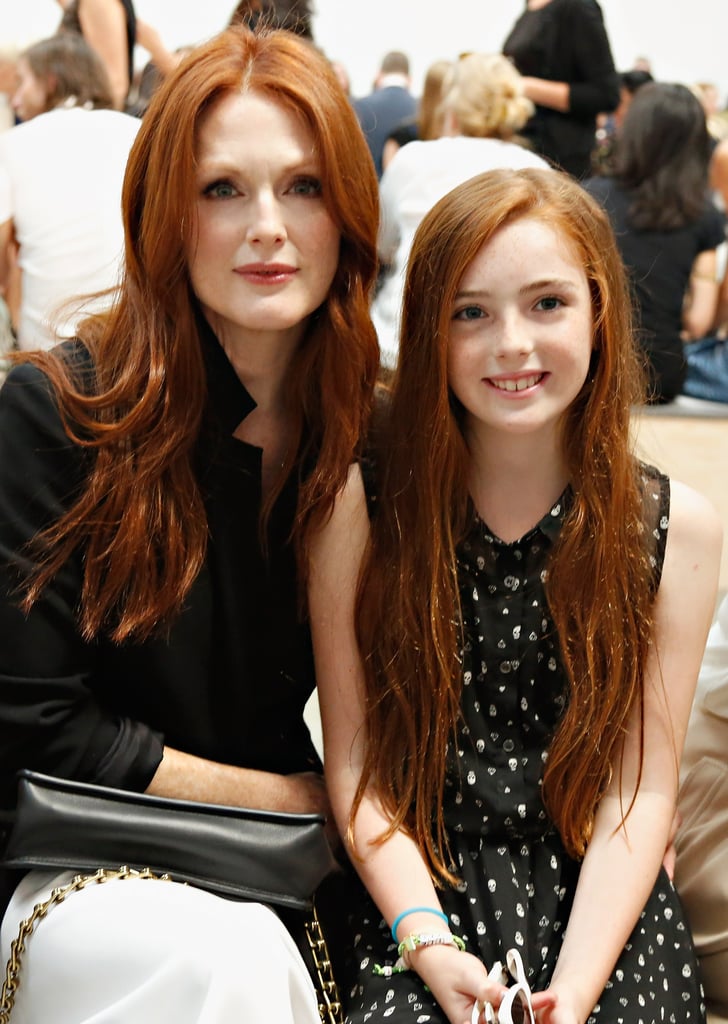 In September, Julianne Moore attended New York Fashion Week with her 11-year-old daughter, Liv Freundlich. The look-alike pair coordinated in black and white at the Reed Krakoff runway show, sitting front row alongside fashion bigwigs like Rachel Zoe and Carine Roitfeld. When we talked to her that month, she joked that her daughter didn't see her films, saying, "Nobody wants to see their mother in a movie. Do you want to see your mother in a movie?"
Tina Fey
Sporting matching stripes, Tina Fey stepped out with Alice, her 8-year-old little girl, in NYC this past September. Alice played a young Liz Lemon on 30 Rock, but the sweet mother-daughter duo shares more than just their looks. Based on Tina's impression of Alice, it seems like Alice may have inherited Tina's funny bone, too.
David Beckham
All three of Victoria and David Beckham's boys resemble their handsome dad, and he seems to have passed on his love for soccer, too. Romeo and Cruz show signs of their designer mom, too, but the couple's oldest son, Brooklyn, has definitely inherited a lot of his father's features.
Read on for more stars with look-alike kids.
Reese Witherspoon
Over time, Ryan Phillippe and Reese Witherspoon's daughter, Ava, has turned into the actress's mini me. Now 14 years old, Ava is regularly seen out and about with her mom, playing big sister to Deacon and little Tennessee.
Katie Holmes
Tom Cruise and Katie Holmes's daughter, Suri, looks more and more like Katie as she gets older. The pair is regularly spotted out and about in NYC, with Katie bringing Suri to film sets and to dance class — a hobby they share.
Meryl Streep
One glance at Mamie, Grace, and Louisa Gummer, and it's very clear which famous actress is their parent. Meryl Streep's three daughters are the spitting image of their Oscar-winning mom, who's been in the spotlight since she before they were born. Both Mamie and Grace have followed in their mother's Hollywood footsteps, too, with roles in The Good Wife and The Newsroom, respectively.
Will Smith
Will and Jada Pinkett Smith's son, Jaden Smith, has both the looks and the acting chops of his famous dad. The look-alike duo has brought their father-son relationship onscreen, too, pairing up for both The Pursuit of Happyness and 2013's After Earth. When we sat down with Will in May, he joked about working with Jaden, saying, "I still am taking most of the money."
Jennifer Garner
The Affleck kids look like both of their famous parents, but Ben Affleck and Jennifer Garner's oldest daughter, Violet, is Jennifer's mini me — even more so when the pair sports coordinating sunglasses.
Christie Brinkley
Fifteen-year-old Sailor Brinkley Cook is the spitting image of her model mom, Christie Brinkley, and the pretty pair teamed up over the Summer for their first magazine cover in Bella NYC's July issue. The proud mom took to Twitter to share a picture of their cover, which also featured the family dog. She wrote, "Sailor, Chester, and me on our first cover together since Sailor started modeling!" Like mother, like daughter.
Uma Thurman
Ethan Hawke and Uma Thurman's daughter, Maya Ray, may have inherited her dad's musical talents, but she certainly has her mom's looks. When the teen stepped out for an appearance with her mom this past April, the pair showed off the same smile.
Cindy Crawford
Cindy Crawford's 11-year old daughter Kaia is almost identical to her supermodel mom; they even have the same perfect eyebrow arch! In 2012, Kaia followed in her mother's famous footsteps when she starred in a campaign with Young Versace. Though it was only a one-time thing, Cindy did give Kaia permission to take a stab at modeling when she gets older, saying, "If she's 17 and wants to try it . . of course, what can I say?"
Image Source: FameFlynet, Pacific Coast News Online, Getty